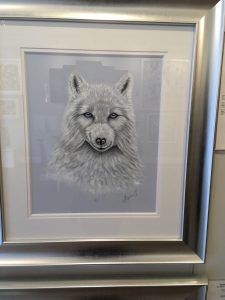 Here at the Courtyard, fine Art Lounge we are always looking to support and encourage new, local talent and we are delighted to introduce Lorna J from Sutton Coldfield.
Lorna has had an interest in art from a very early age and she feels that she has a spiritual connection with the animals which she captures.
Her wildlife realism style of original artwork are interpretations from her own personal collection of photographs which she has taken personally whether that be on her travels or visiting wildlife parks and trusts.
Lorna chooses to use a variety of mixed mediums to include pencils, gouache and acrylics and in her own words,'each piece I produce is like starting a new,fresh adventure with a friend along the journey which brings peace, tranquillity, calm and happiness into my life which I hope is portrayed in my work'.